About Brooks Kolb
Born in Seattle in 1953, Brooks Kolb is a landscape architect with a practice in residential garden design in the greater Seattle area. He currently serves as the president of the Friends of Seattle's Olmsted Parks and is a past-president of both the Washington and Northern California Chapters, American Society of Landscape Architects. Brooks received his Bachelors degree from the University of Pennsylvania in 1974, where he concentrated on French literature and the history of European thought in the Enlightenment, under the guidance of Professor Alan Kors, who is well recognized for his contributions to the Humanities. For his history thesis he wrote on the theme of anti-clericalism in Flaubert's Madame Bovary. After a year on scholarship as a Thouron Fellow at University College, London (The Thouron Fellowship for British-American Student Exchange, 1975-76), Brooks returned to Philadelphia to obtain a masters degree in landscape architecture from Penn (1979.) He lived in Northern California from 1982-1994.
Brooks has always been intensely interested in philosophy and comparative religion and has long regarded it part of his mission in life to write a book on metaphysics and spirituality. He is currently pursuing publishing options for his first book, MANY PATHS, ONE MOUNTAIN: Awakening to Your Personal Spiritual Journey, written from 1992 – 2009.
If you're interested in Brooks Kolb's landscape architectural practice and garden design, please visit www.brookskolbllc.com.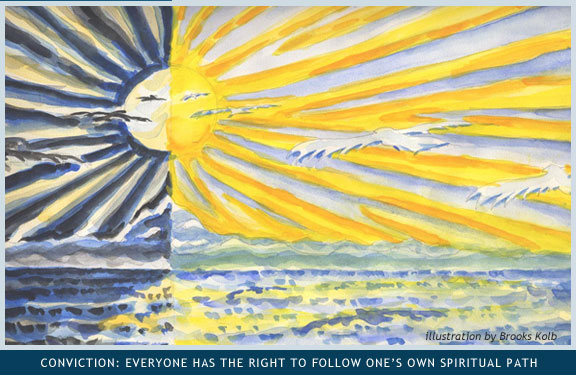 Through Bird of Sprit, Brooks Kolb explores the essence of human nature as it is enshrined in both Eastern and Western forms of spirituality. Spiritual truths are universal. When they are clothed in the garments of different cultures and official religions, it is easy to mistake the garments for the underlying truths they cover and sometimes hide. The sincere spiritual seeker is always searching for the naked core of meaning that lies under the artificial coverings worn by a conformist society.